The first AR in Action summit was held at the MIT Media Lab, on January 17 and 18 207.  The stated purpose of the summit was to bring together inventors, innovators, integrators, investors, and other executives working in AR and adjacent fields to present current state-of-the-art technologies, current research, trends and predictions for the future.   About 70 "Speakers"  (over 100 including panelists) and over 1000 attendees from industry, academia, and government.  Industries ranged from Manufacturing and logistics to First responders, Medical, Military, Museums, Retail ,Sports, gaming, architecture, Real Estate and Construction
Each morning of the two day program began with all participants gathered into a single auditorium for about two and half hours of featured talks.
Then for the rest of each day three time blocks were each split into three separate studios with presentations and discussions running in parallel in the afternoon three time blocks: demos/ talks and panels.
Day 1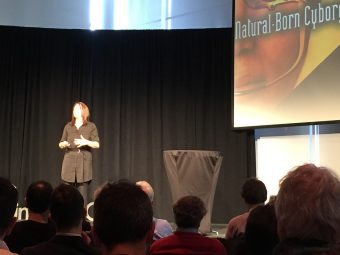 Pattie Maes, director of the MIT Media Lab's Fluid Interfaces Group in a presentation titled "Embracing our Cyborg Selve" emphasized the importance in AR design of interpreting and modeling users' intentions and integrating with users' senses.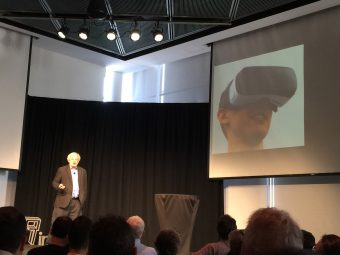 Juan Enriquez, managing director at Excel Venture Management venture capital firm that invests in healthcare, biotech and co-author of "Evolving Ourselves" book, gave a presentation on how humans are augmenting ourselves and therefore evolving by intelligent design and the moral imperative to diversify.and consider the effects of what we design.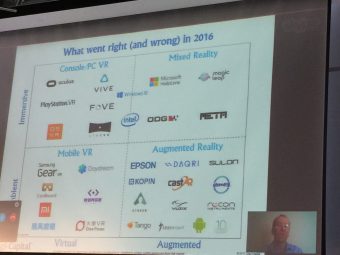 Tim Merel, software engineer, lawyer and VC capital, founder and CEO of Digi-capital and regular contributor to TechCrunch presented the state of the VR/AR market (remote presentation. presentation was a preview to this TechCrunch )   One of the points holding back the AR market is the yet-to-be developed app ecosystem.  But developing those apps is risky for developers until the user-base exists.   He believes the market is waiting for a "hero device" similar to the role iPhone played for smartphones.   Other key issues that need to be addressed for the market to develop are longer battery life, increased mobile connectivity, and telco cross-subsidization.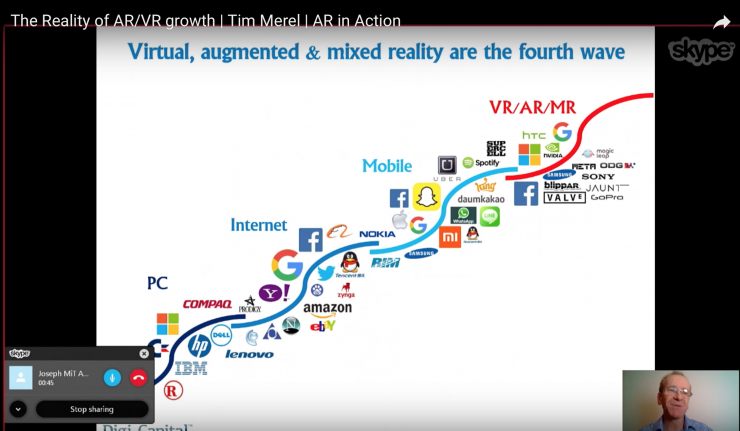 Robert Scoble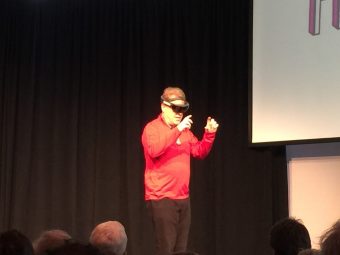 technology blogger, technology evangelist and entrepreneur presented his insights and predictions on the AR market.  He predicts a major Apple release this year.  Believes Apples is going to release a phone that looks like a clear piece of glass with a 3D sensor.  Need better 3D mapping of the world for AR.  He said that Apple forced Carl Zeiss to pull all of their optics stuff off the floor at CES which likely means Apple glasses are coming this year.   Thinks that these glasses will need the phone and have very little processing in them.   Likely motion tracking will rely on the headphones.  Expecting a big bang that will be a bunch of new products and change our everyday lives:  everything from retail, to hotels, cars (augment driving), makeup changing (Sephora AR makeup.) Every company is going to have both a physical and virtual component .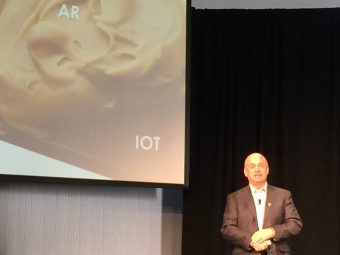 Jim Heppelmann, President and CEO of PTC, gold sponsor of the AR in Action event described his company as providing software for industrial companies at the intersection of IoT and AR. As part of product lifecycle management, IoT is to get data back from the physical world and how a product's condition, use and its environment.    Merging this data with the design data they are Creating a "digital twin" for physical product.  Believes AR is going to be a "critical enabler to get the full value out of IoT."  AR is the way to take this digital data and put it in the context of the physical object for repair, maintenance etc.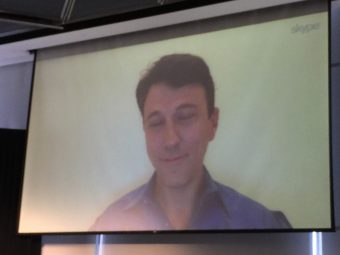 Daniel Kraft trained physician and scientist and head of medicine at Singularity University gave an overview of what is happening in AR and VR in Health title "Augmented Reality and the Future of Health and Medicine" (presented by video feed.) He gave examples of AR and VR being used in different parts of Health and Medicine: Health and Wellness, Education, Diagnosis and Therapy.  The combining of technologies including AR, VR, and AI allow us to create applications and services for continuous and proactive wellness care  so we need solutions of how to pay for these because health care traditionally was on a pay for service basis.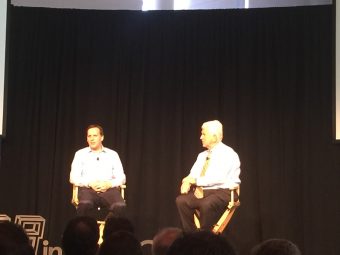 Bob Metcalfe pioneer in networking technologies and co-inventor of Ethernet sat down with AR-in-Action organizer John Werner in interview style discussion, to share his experience and advice. He described the genesis of Metcalfe's Law and related that to advice for the killer AR app will need to be something that "connects people."

Day 2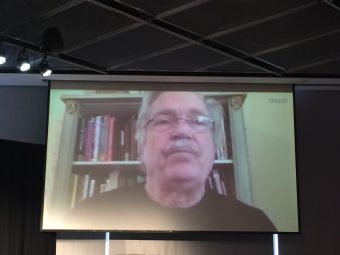 Alan Kay pioneer in personal and laptop computers, GUI, and modern object-oriented programming, reminisced about early research in the VR/AR spaces. Some of the early headsets or glasses were so heavy they had to be hung from the ceiling.  He sees 3 critical issues with current interfaces:
most focal length is too close– not forced to focus out– makes you see the pixels not the picture
having big enough picture angle (google glass terrible)  field of view too small.. psychologically important to see stuff in periphery.
placement– vertigo and headaches if not head position sensing is not mounted correctly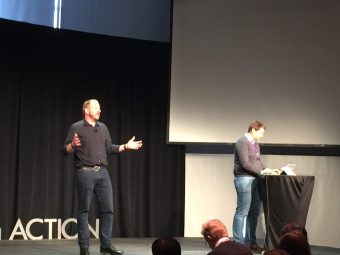 Mike Campbell, Executive Vice President of ThingWorx Products at PTC, an IoT development platform. He gave a demo of a lab technician using AR to receive in-context instructions to clean and repair a machine in the field.  He claims that this has allowed each field technician of this particular client to service double the number of machines.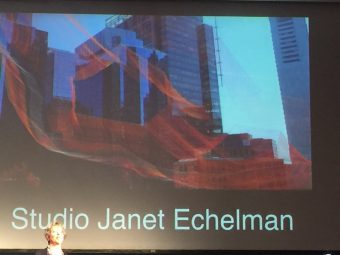 Janet Echelman, artist shared some of her interactive sculptures that are suspended in public spaces in cities and allow spectators to interact in ways such as collaboratively choosing the colors to be projected. She shared insights in details such as choosing to make interactivity available by mobile web browsers so as to not require a specific app download.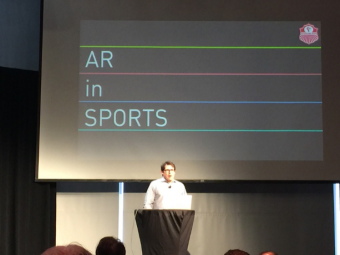 Josh McHugh editor in chief of the Future of Sports  research organization shared some examples of AR in Sports.  Sports and sports broadcasting have been forerunners in the use of AR: for example he described the first and ten system in American Football which overlays the location of the first-down marker over the image of the field for television viewers.    He also shared how repurposed Google glasses could be used in Concussion diagnosis in sports such as American Football.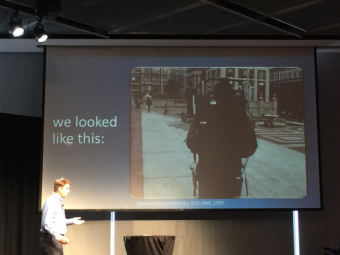 Tobias Hollerer ,co-director of the Four Eyes Laboratory at UC Santa Barbara " Simulating the Future of AR", shared some of his early research in the area of AR at Columbia University and current research from the Allosphere project.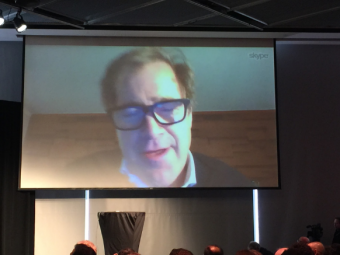 Bing Gordon, General Partner and Chief Product Officer at Kleiner Perkins Caufield & Byers in 2008 and chief creative officer at Electronic Arts from 1998 to 2008. Gordon shared a presentation of "What video games predict for AR."  He said that gamers are trained on multiple streams of info– and that the eye can pull in more information faster than other senses.   He gave the example of how the     How the BMW's car's dashboard interface is similar to those first seen in games.
Patrick Ryan is an Engineering Manager at Newport News Shipbuilding and gave a demonstration of how AR is being used to assist painting of aircraft carrier saving time and money.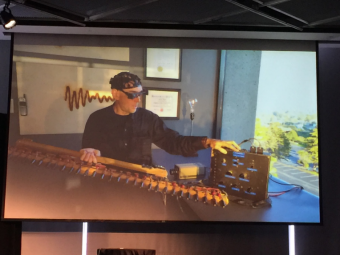 Steve Mann is an inventor, artist and scientist and pioneer in the area of wearable computing. He shared a prepared presentation titled "43 years of wearable computing and augmented reality" (this video) He shared examples from the "world's first wearable augmented reality computer" from the 1970's that he created when he was a child. Which allowed him to pickup television signals and radiowaves and visually represent that through a series of lights as he wove it through the air.  He calls this "phenomenological augmented reality", showing real physical phenomena.    He also presented a few brain-computer interfaces and shared examples of meditation using brain waves (brain-sensing headbands from Interaxon a company he cofounded with his students.)
John Werner founder of Ideas in Action which organized the event said that Boston already has a strong community working in the areas of AR and VR.  He noted that Boston already is hub for Biology and Robotics and why not a true hub for AR?  In his discussion with Bob Metcalfe, Metcalfe that "Boston has 10 major research universities and about 100 in the general area."  Werner believes it is not only the concentration of the universities and large IT that have located in the Boston/ Cambridge area but the ability to apply those technologies to traditional industries that have strong presences in the area which is key.